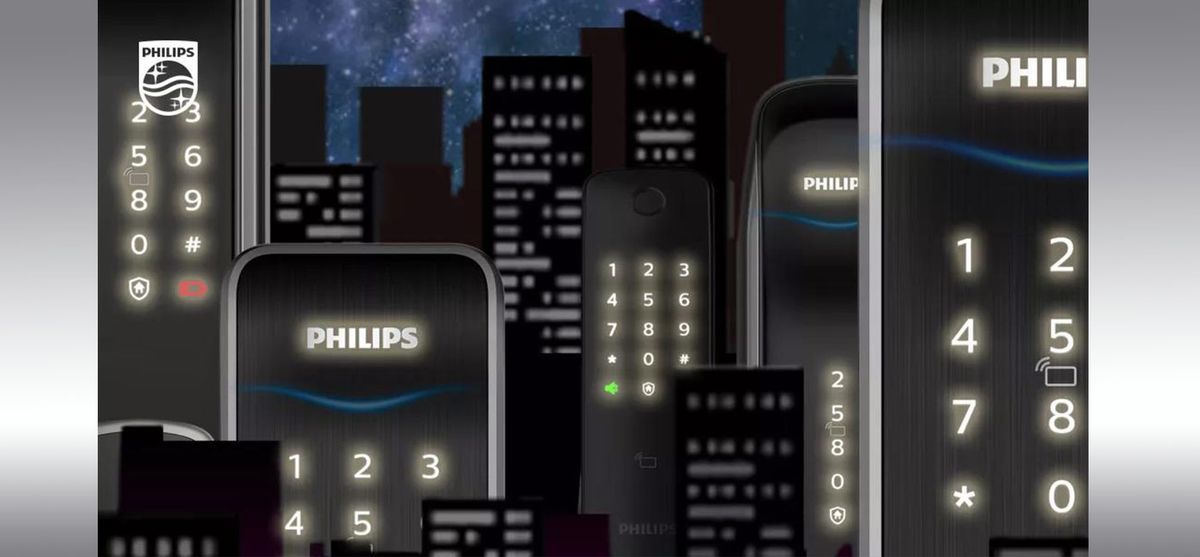 The various unlocking methods of smart door locks are familiar to everyone. No matter the face recognition, fingerprint verification, PIN code or key tag unlocking, they are favored by different groups. Among them, as a standard unlocking method for Philips EasyKey, how "variable" is the PIN code? Let's take a look.
The master PIN code of Philips EasyKey is the user password with the highest authority and acts a vital role. It can conduct several operations like adding and deleting fingerprint or PIN codes, binding networking and so on.
The user can find the initial mater PIN code on the Philips EasyKey user manual. After the smart door lock has been installed and activated, the door lock would remind you to change the initial master PIN code for safer use.
The way to modify the master PIN code is varied from the model. General steps are as follows.
Enter [#] on the door lock keypad, enter the master PIN code, then confirm with [#].
Enter [1] to change your master PIN code.
Enter your new PIN code and confirm with [#] again. Re-enter the same master PIN code and confirm with [#].
After hearing a voice prompt of "Succeeded", press [*] to turn to the previous menu until you finally exit master mode.
Hidden PIN code leaves no space for peeping
Worry about being peeped at when you are entering the PIN code to unlock the door? Philips EasyKey employs a 20-32 digits PIN code design. As long as you enter the right PIN code in a random number combination, the door lock could be verified successfully. In other words, any number + right PIN code + any number.
Having the hidden PIN code, we can enter any number before and after the right PIN code at our will. So, we can be reassured to enter the PIN code in front of our relatives and friends without worrying about the accidental leakage of the PIN code. Moreover, it can make up for the drawbacks of ordinary PIN code unlocking. For example, the short PIN code is easy to be peeped at, while the long PIN code is hard to remember. Frequently changing the PIN code is also troublesome.
One-time PIN code, convenient for cleaning services
One-time PIN code means can only be used once and expire after use. Philips EasyKey users can set a one-time PIN code on the lock end, which is more commonly used for door-to-door cleaning services. The specific operation steps are as follows:
Wake up the escutcheon, enter [#] and enter master PIN code, then confirm with [#].
Enter [2] to enter into the user setting, then enter [2] again to add a one-time user PIN code.
Enter 6 to 12 digits and confirm with [#]. Then re-enter the same digits and [#].
Temporary PIN code, easily cope with friends' sudden visit
Temporary PIN code, which can be used multiple times within a limited time and become invalid after the time is exceeded, such as within half an hour or 10 minutes.
After Philips EasyKey has completed its networking, the temporary PIN code within a valid time can be sent remotely from APP. Thus, no matter the cleaner or relatives' sudden visit, they all can unlock the lock through a temporary PIN code. Hence, we do not need to interrupt our work and go home in a hurry, which satisfies various temporary unlocking demand scenarios in life.
The steps are as follows.
Open the Philips EasyKey APP, then click the [Setting] pattern and select [Temporary PIN code]
Then the temporary PIN code would be sent to relatives and friends.
Anti-duress PIN code, a necessity for someone who lives alone
Most of the Philips networked smart door locks are also equipped with duress alert like Philips video smart door lock DDL702-1HW. This function is used for the situation when we encounter an abnormal situation, we can unlock the door thorough entering the anti-duress PIN code we have saved on APP. Then the duress alert message would send to families and friends in time. Therefore, physical safety can be effectively protected and reduce the occurrence of home security risks.
The concrete steps are as follows.
Open the EasyKey APP, click the [Setting] pattern and find the [Duress alert]. Turn it on, select a PIN code and fill in related alert information. Then click [Next], select APP account and enter the APP account of an emergency contact. (This account must have registered on Philips EasyKey.)
Upgrading from the traditional door lock, smart door lock not only has more convenient and assorted unlocking methods with a higher security level.
Philips EasyKey, combines multiple unlocking methods to satisfy different daily life scenarios in all respects. Making the complicated simple, Philips EasyKey brings more convenience to smart life.