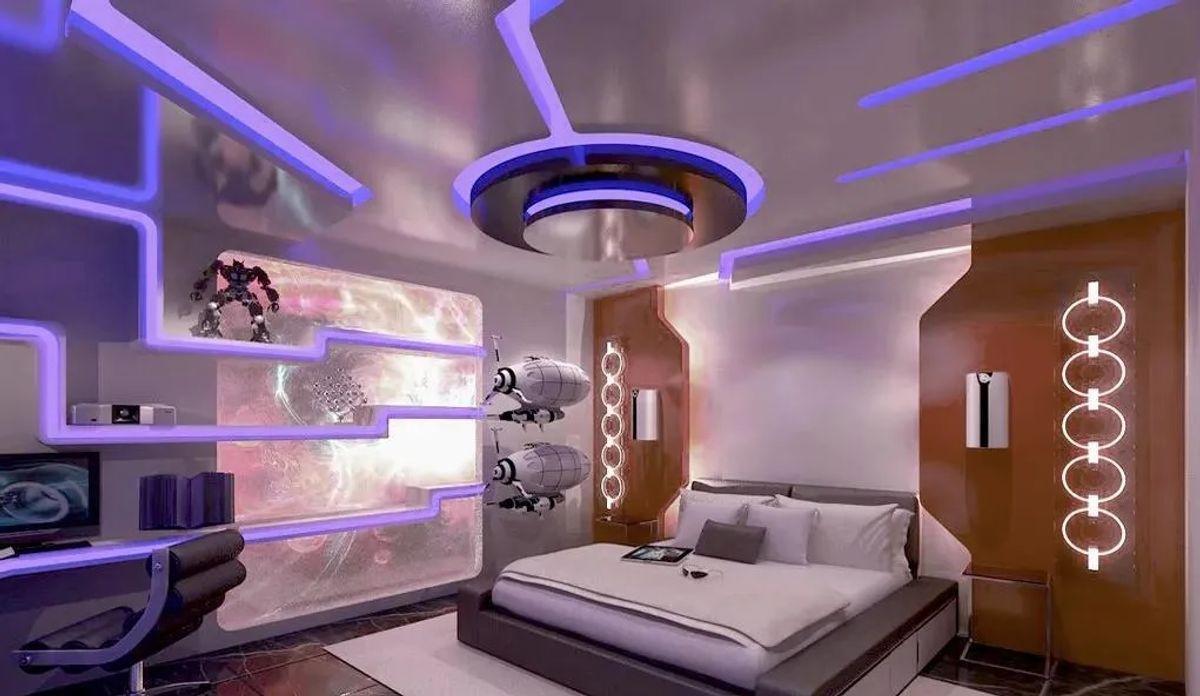 In this era, a person's personalities are not only reflected on appearance, but also can be seen in the home. The color collocation and every item or furniture in the home can show one person's taste. How your home looks like? Is it minimalism or cyberpunk-styled?
Don't know cyberpunk yet?
In fact, cyberpunk is a hot topic in recent years. Whether it is games, movies, fashion, restaurants, playgrounds, etc., there are works and designs that extend around the "cyberpunk" style.
A while ago, an action role-playing video game named "Cyberpunk 2077" was published and open for download worldwide. The number of players on the online game platform, Steam has exceeded 820,000 and rose sharply. The popularity of this game has also made cyberpunk more and more a popular culture and more integrated into home design.
It can be seen that cyberpunk mainly uses elements such as science fiction, technology, and the future. Visually, it mainly uses cool colors such as blue, purple, and cyan, and sometimes uses red and black tones to color it. This is to reflect the sense of technology and mystery in the future.
When Household Items Meet Cyberpunk
1. Lighting with neon tones
The neon lights with super expressive color are the iconic elements of cyberpunk style. In the living room or bedroom, matching LED lights with neon color tones has an unexpected and cool effect, giving people a beauty look of future technology.
Color linkage can also be realized if combined with smart desk lamps or smart bulbs, and the brightness of the home can be adjusted anytime and anywhere.
2. Line style decoration
Lines are the standard configuration of many mechanical and electronic equipment with technological aesthetics. There are also many line-style interior designs in the game, such as ceiling decorations that appear in the room as shown below:
It can be said that line patterns are important in the cyberpunk world, and the line decoration on lighting can instantly change the look of your home. It is simple and neat, showing a sense of home and at the same time showing the cyberpunk style.
3. Multicolor glassware
According to the year-end data of various e-commerce platforms in 2020, many consumers like to decorate their homes with some lovely colored glassware.
Glassware can greatly enhance the overall layout effect of your home and make the space full of vitality. At the same time, it can also give the living and dining room a cyberpunk looking.
Philips Digital Lock, Giving You a Cyberpunk Looking from the Doorstep
In addition to safety, convenience and intelligence, digital locks have increasingly become a decisive factor for consumers to purchase due to its lovely appearance. The indicator of the Philips Digital Lock has three classic visual elements in cyberpunk styles which are blue, green, and red color. At the same time, it also contains voice navigation, therefore you can easily identify the door lock status through the color of indicator and voice navigation.
If the indicator light is blue, it means that the system has been woken up and the door lock operation can be performed; if it is green, it means the information verification is successfully verified and the door can be opened; if it is red, it means the door is successfully locked, or the information verification is wrong and the unlocking fails.
The indicator is also showing a smiling face with neon color tone. The smiling face gives you a sense of homecoming ceremony and it gives people a cyberpunk looking from their doorstep!
Home is not only a place for us to live and rest, but also a space for expressing our lifestyle. Philips Digital Lock builds a cyberpunk-style, comfortable, smart, and stylish home life to you by its powerful functions and nice appearance.


Visit us for Philips Digital Lock Malaysia Official Online Store deals: https://www.futuristiclock.com/
Credits to original writer, translated from: Philips Digital Lock Official Account Subscription